Graflex Graphic 35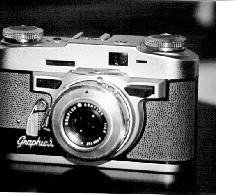 This 35mm camera was made by Kowa in Japan, for Graflex, in the 1960's. The Century 35 has a Seikosha MX shutter. The lens is 45mm f/f3.5.
Manufactured 1955 (Effort to save a sinking company)
50mm f/2.5 Graflar lens
Speeds to 1/25
Minumum aperture f22
Nice coupled rangefinder - no meter
Unique focuser - those black rocker buttons on the sides of the lens
Unique shutter release - that lever on the left moves to the left to release the shutter.
Photo by drlit@vax1.mankato.msus.edu
Here is another model:
Underneath lens assembly it says "Lenses and shutter made in Germany (West)."
Along the front rim of lens it says G. Rodenstock.
This camera appears to be missing a black plastic focusing knob (see blue arrow)
Prontor SVS shutter speeds are B, 1-300th with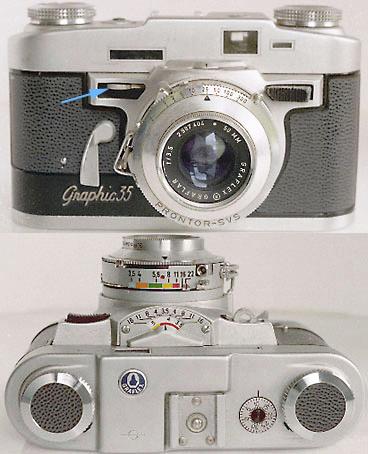 Photo by David Barajas.
---